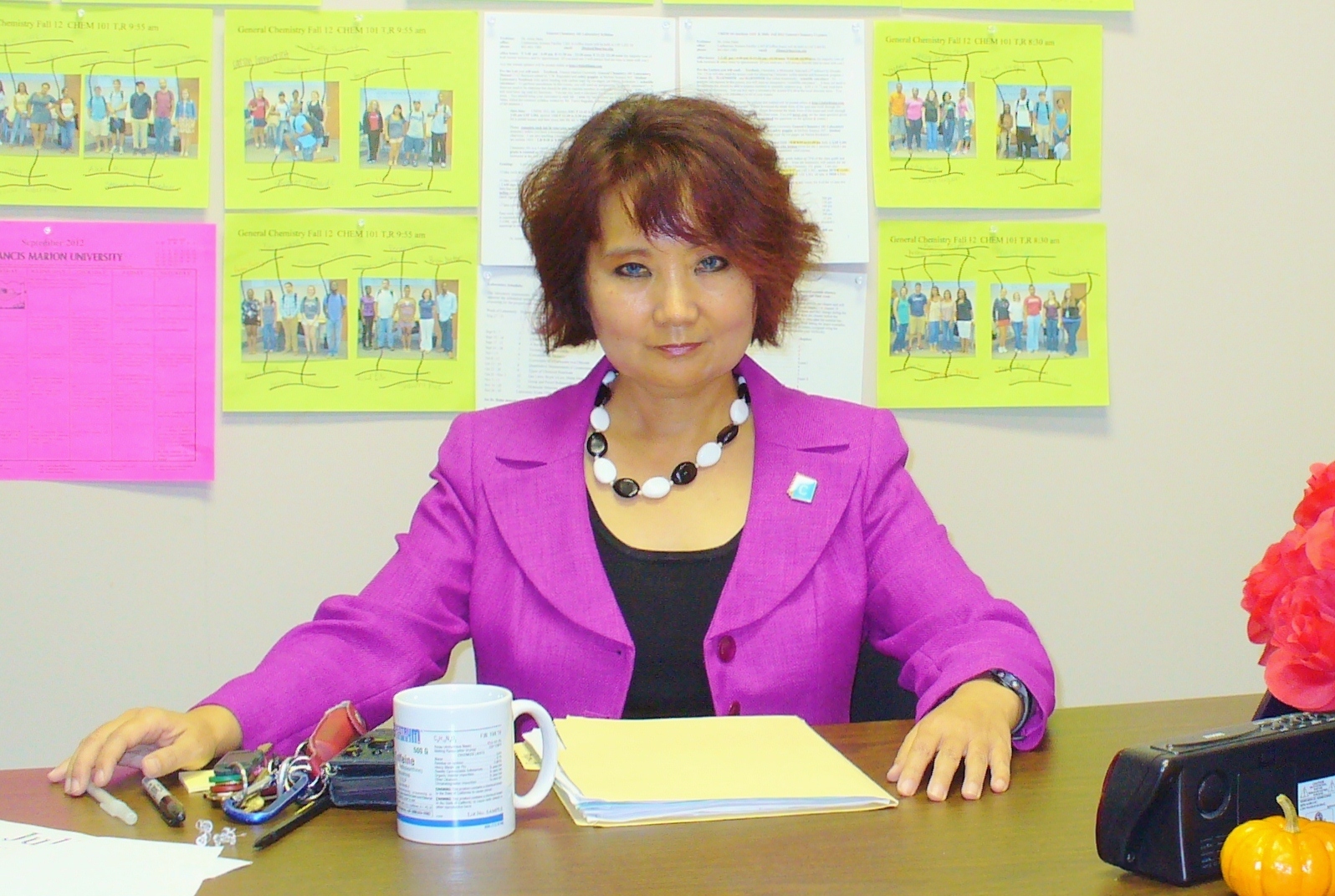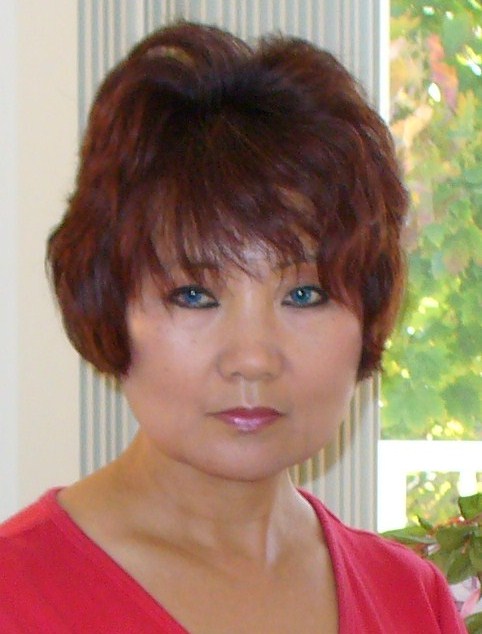 photo 10/11/12 at LSF 303H office at Francis Marion University photo 10/30/10 at Patchogue apartment (Long Island, NY)
(Florence, SC)
Homepage Juliet M. Hahn, Ph.D. This website is maintained and funded independently by Dr. Juliet Hahn updated 11/6/13 Wednesday at 9 am from her FMU office
Assistant Professor at Francis Marion University (starting Fall semester 2012)
Also as an Affiliate: Visiting Research Professor at the University of South Carolina, Columbia (joint appointment with sister State of SC State University system, starting Summer 2013) (This appointment primarily and importantly gives me full access to all of the equipment in the Chemistry Department at the University of South Carolina in Columbia. My parents live in Columbia and I visit them often so this is an especially good way for me to get access to all of the state of the art expensive Chemistry equipment.)
office: Francis Marion University
Department of Chemistry
Florence, SC 29502
843-661-1483
office: Leatherman Science Facility L303H
Go into room/complex 303 just down 2 doors from LSF L301 your lecture room.
My office is the last one to the right down the right hallway.
My "turn in assignments box" is the wooden box (among the whole bunch of boxes) located between the two doors of LSF L304.
home: 200 Bentree Lane A-6
Florence, SC 29501
312 Lancer Dr. (parent's home where I hang out a lot)
Columbia, SC 29212
cell: 803-955-6008
I grew up in Columbia, SC and upstate New York. I have family in SC and Virginia. I am of course a US citizen.
High School: Irmo High School, Columbia, SC (97/100 cumulative GPA) I also attended E.L. Wright Elementary School in Columbia.
BS Chemistry University of South Carolina, Columbia (where my parents live), Magna Cum Laude, Phi Beta Kappa, 3.8 GPA (2 computer classes short of chemistry / computer science double major)
Ph.D. Organic Chemistry, State University of New York, Stony Brook
postdoctoral research University of Wisconsin, Madison; Columbia University (NY,NY)
more than 10 years experience - all post Ph.D. as a tenure track assistant professor
teaching: class sizes between 50 and 300 students, Organic Lecture (mostly for science majors), General Chemistry Lecture (mostly for science majors), Organic Lab (using own sole authored copyrighted lab textbook), General Chemistry Lab, graduate level (PHD & MS students) Advanced Organic, Bioorganic and Organic Spectroscopy, Organometallic Chemistry
Here is the hyperlink to my Teaching Evaluations at FMU To answer the question about my authority (ability - Oh No, I am not just a little stupid girl who barely knows how to write her name.) to teach a class in General Chemistry with a PHD in Organic, graduate level coursework completed by Dr. Hahn: PHD Organic, with additional 21 credit hours in Inorganic, 12 credit hours in Analytical (Most Chemistry PHD programs require 9 to 12 credit hours for a major in a Chemistry sub area, Therefore I have enough graduate credit to claim to have a triple major in the Chemistry sub areas of Organic, Inorganic and Analytical Chemistry. General Chemistry is usually taught by Chemistry PHDs with a sub area major of Inorganic or Analytical.) (note: Next semester (Spring 2014), I will be teaching 2 sections of General Chemistry I Lectures and 3 sections of General Chemistry I Labs & no other classes. I do not teach under any other name. If the course schedule does not list me as the professor of record, I am not teaching that class.)
research: research as principal investigator with primarily undergraduate students (1) carbon nanotube functionalization to make electrically conducting thin films - new materials, solar energy collector (2) photodimerization of thymine to bioorganically experimentally simulate the photodimerization reaction implicated in skin cancer (3) stereoselective synthetic methodology using organoaluminum catalysis and a zwitterionic effect in a class of neurobiologically active natural products with potential application as diagonostic or pharmaceuticals for diseases like Alzheimer's and Parkinson's
*****************************************************************************************
Dr. Hahn's Schedule Spring 2014
Original Enrollment was set to 50 maximum for the lecture and 20 students maximum in the labs. Enrollment maximum (in response to student requests) was changed two times to the current enrollment maximum. Enrollment has reached the following maximum which matches the maximum number of actual available chairs (I counted the actual number of chairs) in LSF 301 for the lectures. (The enrollment maximum is the reason that these sections can no longer be seen in the "Open Classes" list.) posted by Dr. Hahn on 11/3/13 at 10:20 am from her Florence apartment
General Chemistry I Lecture CHEM 101 Lecture (sect 5162) TTH 8:30 -9:45 am LSF 301 70 students
CHEM 101 Lecture (sect 4752) TTH 9:55-11:10 am LSF 301 70 students
General Chemistry I Lab CHEM 101 Lab (sect 4755) T 12:45-3:35 pm LSF 301 28 students
CHEM 101 Lab (sect 5163) W 1:30-4:20 pm LSF 304 28 students
CHEM 101 Lab (sect 5163) TH 12:45-3:35 pm LSF 301 28 students
******************************************************************************************
Dr. Hahn's Schedule Fall 2013:
General Chemistry I Lecture CHEM 101 MWF 9:30 - 10:20 am, CHEM 101 MWF 10:30 am - 11:20 am (~ 120 students total)
General Chemistry I Lab CHEM 101L M 1:30-4:20 pm, CHEM 101L W 1:30-4:20 pm, CHEM 101L F 12:30-3:20 pm (~ 90 students total)
**************************************************************************************
In my sections of the General Chemistry Lab: Your grades are not posted on Blackboard. Some of you asked why your grades are not posted on blackboard. Some of you stated that some grades were posted for my sections of the lab on Blackboard. Some of you asked how to view your grades for the labs on Blackboard. Someone erroneously posted some grades in his sections. My sections are not effected. Your grades will be posted outside of LSF 301 inside the glass case. I am still grading (because I am still making up my lecture final exam). There is no change in the way that your lab grades will be calculated. Your lab grade will be calculated exactly as stated on my syllabus. posted by Dr. Hahn 12/2/13 at 3:30 pm from her FMU office
General Chemistry Lecture Final Exam: I forgot to state (although it is obvious because we have been doing this all semester long) that when you take the final, the exam will be given exactly as it has been given all semester long. (a) all your bookbags and giant purses in the front of the room (b) only your calculator, writing utensils and ID at your desk. (I am sorry to say that I only still vaguely recognize the majority of the students in class. I am just not that good with matching faces with names.) I will come around and individually get signatures and check IDs during the final as I have done all semester long. posted by Dr. Hahn 12/3/13 at 10:30 am from her FMU office
The Thanksgiving Brownies were from my mother (Well, they are from me but my mother baked them. I just usually buy cookies or doughnut holes.). The little Halloween candies and Christmas chocolates are from me. My parents and I put the Christmas chocolates in the little bundles over Thanksgiving break. (I have done this for years before I ever got hired at FMU - giving out snacks not doing it with my parents because this is the first time that I have had a faculty position near my parents. ) It is sort of part of my personality. Neither were funded by the Chemistry Department. They were not packaged by the chemistry club or anything like that (So no, there is not some sort of hidden meaning in the little snacks). (just like no one is helping me grade your exams which is why it takes so long for me to grade them) I have read educational studies which show that students are more receptive to instruction after cookies and stuff. I started doing the pre - Thanksgiving snacks as a small reward for being such good students who actually showed up on the last day before the break. The Christmas candy is sort of a I enjoyed teaching you this semester thing and to provide the last little burst of energy for doing the final exam. I like going to the stores before Halloween and Christmas and finding unusual little candies to give to my students. I don't give out Halloween candy at my apartment (I don't like opening the door to people that I don't know at Halloween with all the incidents that you hear about in the news) so I give out Halloween candy to my students instead.
**********************************************************************
There is no extra make up exam being given on "READING DAY" in any of my sections of either the Lecture or Lab of General Chemistry. Reading Day is supposed to be the day that you are supposed to study for your final exams without having any classes. It is the day that I will be making up your lecture classe's 1/3 multiple choice, 1/3 short answer and 1/3 long answer final exam which will be 2 x as long as the regular exam.
The Lab Final Exams for my 3 sections of the lab will be given on 11/20Wednesday 1:30 pm, 11/22 Friday 12:30 pm and 11/25 Monday 1:30 pm. With prior permission from me you may attend any of these 3 day final exams. You need to get prior permission because if you try to take the final exam in a different section and I run out of exams, then students from the wrong section of the lab will not be allowed to take the lab final exam that day. If you miss these 3 final exam dates and say nothing to me and have no excuse of any kind, you will earn a zero on 25% of your lab grade. There is actually a university wide rule which states that you earn a grade of F in a class where you do not take the final exam. Just because some guy announces in class that they are not able to take the lab final exam does not excuse you from the lab final exam. In fact that guy is following my rules for taking the lab final exam in one of my sections of General Chemistry Lab. His implication of refusing to take the lab final exam (and then taking the lab final exam himself) will not hurt him in any way (because he is taking the lab final exam following my normal rules). If you refuse to take the final exam (for no reason), it could however result in you getting a D or F in General Chemistry because you get a zero on 25% of the lab class grade if you in fact do not take the lab final exam with no documented reason. (This is like a sheep leader telling all the other sheep that it is wonderful to jump off the cliff and then watching in the sidelines as the stupid sheep jump off the cliff while the evil sheep leader watches from the sidelines and does not jump off the cliff himself.)
The Lecture Final Exams for my 2 sections of the lecture will be given on: for the 10:30 am MWF class on 12/4Wednesday between 3 pm and 5 pm for the 9:30 am MWF class on 12/6Friday at 8:30 to 10:30 am both in LSF 301 the same lecture room. With prior permission from me, you may be allowed to take the Lecture Final Exam in the other section's final exam time. If you come to the wrong Lecture Final Exam without prior permission and I run out of exams, the students from the wrong section will not be able to take the final exam.
If you miss the final exam in either my lecture or the lab, I will not be giving you the identical final exam which I gave the rest of the class at the normal final exam time.
I will have to make up a new makeup final exam which will be very different from the final that the classes took because I will post the final exam as soon as all of my sections take their final exam. The makeup final exam will have no curve of any kind because we do not have the ~ 120 students taking the lecture exam and the ~90 students taking the lab final exam and you will be taking the makeup final exam by yourself. It takes me around 2 days to make up an exam and because of the deadline for me to submit grades, I will not have time to make up a new final exam before the grading deadline. Therefore I will submit an incomplete grade for you if you miss the final exam in either my lecture or the lab. Then at a time convenient to me, I will give a makeup final. Please note that if you miss the final exam (in either the lecture or the lab) and say nothing and have no documented excuse, I will just give you a zero for your final exam grade and submit whatever grade you earn. There is a university wide rule which states that students who do not take a final exam earn an F for the class. posted by Dr. Hahn at 9:13 am 11/15/13 from her FMU office
*******************************************************************************
Question: Is there a facebook page which Dr. Hahn keeps under an alternate name ? NO. Last time I looked at my facebook page was maybe half a year ago until I looked at it yesterday because of a raffle at my apartment. There was a friend request from someone with almost my exact name (different by one letter). The profile picture however was my picture from my website but where my clothes and my old car color were green or blue. (The original colors were pink and red.) There were also a couple of pictures from my facebook page with the text changed slightly so that at first glance I thought it was my own statement. Everything was modified slightly from my original picture and text. The change was very well done. Someone spent a lot of time setting up this alternate facebook page. The only thing was that it said that my PHD was in Physical Chemistry. There was also a picture of a T-shirt which said "I love Physical Chemistry" and it said that I hung out with my boyfriend in front of the Physical Chemistry office. Physical Chemistry is the one field that I do not claim to have even a graduate school minor and there is no Physical Chemistry office at FMU. I would also not be eating lunch in front of someone else's office. I do not eat lunch with my boyfriend because I do not have one. (This statement of no boyfriend not given in an attempt to get a boyfriend but because people like to say about women that a woman does not need a job - we just have to give a job to the boyfriend or She is leaving to follow her boyfriend out of state so she will quit her job any day now, etc. Statements that no one would say about a man. as in: Dr. X will be quitting his job and moving soon to be near his girlfriend who lives 5 states away.) Very creepy. Someone very creepy had a lot of time on their hands and had some sort of weird agenda which I cannot fathom.
Question: Will I (Dr. Hahn) disappear mid semester (for some reason) so that the rest of the semester, you have someone else teaching all of my classes ? (or the real question is: Are we going to have the same type of exams, quizzes, lab reports, lab final lecture final, syllabus points as originally promised by Dr. Hahn at the beginning of the semester?) NO, I will not be disappearing mid semester. (real answer to real question: Everything will go as promised in the original syllabus. Trust me. It will be OK.) I know of absolutely no reason that I would disappear mid semester. There is a regional ACS meeting in Atlanta towards the end of November around the time of the General Chemistry I Lecture. If I went to that I would have to have someone take over almost the entire week before and during my scheduled Exam III. Shortly after Exam III, there are the lab finals followed by Thanksgiving and the end of the semester lecture Final Exams. I looked at the schedule and I take my students seriously enough so that I would rather look after my General Chemistry students than network with my regional Chemistry colleagues. posted 10/30/13 W at 8:35 am from her FMU office
Question: Am I teaching classes for which my name is not listed on the hard copy registration or on the online registration website? Nope. I am however teaching all of the classes for which my name does appear (as HAHN, J). Because last year was my first year at Francis Marion, there was another person listed for the classes which I taught in Fall 2012. That person left for another job I was told. There are some classes which list Dr. Williams (the chemistry chair) which Dr. Williams does not actually teach. This is because they just put his name in for all of the classes taught by adjuncts & some instructors (according to Dr. Williams when I asked him how he could possibly teach 20 to 30 contact hours). I am not an adjunct. I am a full time Assistant Professor. None of the classes which list Dr. Williams as the professor of record are taught by me. None of the classes which list "Staff" is taught by me. The only classes which I will be teaching are classes which list "HAHN, J" on the online and hardcopy course schedule. Sometimes there are last minute adjustments to the schedule but as you can see there were no such last minute adjusts in the past Spring 2013 and Fall 2013 related to any classes which I teach.
I am only mentioning this because I know that some of you think that I only teach the labs and only have a BS in Chemistry. I am also not an undergraduate assistant who helps in the labs and sometimes zeroxes exams, lab reports, and does some grading etc. I have a doctorate (a PHD, the highest degree possible in Chemistry, the same type of degree as Dr. Williams) in Chemistry and I teach (as you can see above) both lectures and labs. I do not teach under another person's name. I teach under my own name. My name is Dr. Hahn. (I only mention this because some of you apparently think that my name is not Dr. Hahn but is something else. I have no idea what other name you think I go by.)
Question: Am I 63 years old? Am I even 58 years old ? Nope. I have never had plastic surgery either. It is actually kind of funny but at one of my former positions this 65 year old married professor and colleague kept hitting on me. He kept spreading rumors that I was older than he was. At the time I was in my mid thirties. The more the guy hit on me and I refused to play his game, the more he kept telling everyone that I was older than he was. Never mind that he was within 5 years of retiring, he kept telling people that I would be retiring soon, at any minute. It was actually laughable. I find it hard to believe that anyone would possibly believe that I was older than this obviously very old man. The only thing is that he kept confusing people by calling this other woman who actually was a little white haired lady by my name. The truth is flexible ? I don't think so.
What Am I Doing Now? I usually eat lunch at the "Grille" because it is close to the Science building. If you want to eat by yourself and you do not wish to be bothered, the trick is to go with some sort of work and work while eating. Actually if I eat in my office if I am time crunched, I have a habit of doing the same thing (eating while working) anyway. Convenient because you can kill two birds with one stone - eating lunch without being bothered and getting some work done (usually grading of some sort). So yesterday, I came back from the "Grille" after lunch to teach my 1:30 pm Wednesday lab. On my walk back I could see from a distance Dr. Carr and another professor (who was not me obviously because I am watching them from a distance) I am guessing probably walking back from the "Cottage" where most faculty eat lunch although they usually eat in the office. When I walked back to the classroom where I teach (on my way back to my office where the document camera cart is located), there is Dr. Carr coming out of the classroom 3/4 full (It wasn't quite time to start class.) of my CHEM 101 Lab students. Dr. Carr teaches in the room before my lab but his class ends at 12:20 noon and I saw him coming back from the "Cottage" so I know he did not just stay teaching after the end of his 12:20 noon Gen Chem I Lecture. I almost thought for a few seconds that I was walking by Dr. Carr's class until I recognized a few of my lab students. So I asked Dr. Carr what he was doing coming out of my lab class and he says (I am guessing jokingly.) would you like to switch class with me? I am guessing jokingly because no one would seriously switch professors around midterm time because that would be disastrous for the students. I am obviously not going to switch classes with Dr. Carr or anyone else mid semester. So Dr. Carr holds the door to my lab class widely open so that an elephant can pass through for a few minutes but of course I did not go in because I needed to get to my office so that I could get my classroom teaching material including handouts and graded lab reports. I don't work with Dr. Carr in anything at all, other than in being fellow Assistant Professors who teach General Chemistry. I don't do research with him. I don't co-teach anything with him. I have no interaction with him in anything which he may do in private after hours. I just thought it a little unusual. posted by Dr. Hahn at 10/3/13 Thursday at 11:15 am from her FMU office
**************************************************************
I am not currently and am not planning in the future to be doing research in collaboration with anyone at Francis Marion University.
**********************************************************************************************************
Here is a narrated PowerPoint Presentation on Active Learning in the Online format which I changed into a video. This was a project for the online workshop for faculty at Francis Marion University on online teaching. It was supposed to be a group project but the part posted above is just my part of the presentation. I had also attended and participated in a workshop (paid for by DSU) for faculty on Active Learning presented by the University of Wisconsin when I was a professor at DSU.
************************************************************************************************************
General Chemitry Lecture & Lab Information This is where the hyperlink to all of the quizzes and exams is located. Click on the blue line above "General Chemistry ..."
Students in my (Dr. Hahn's) section of General Chemistry I Lecture 9:30 am - 10:20 am MWF and 10:30 am - 11:20 am MWF which normally meets in LSF 301: You do not need to go to the classroom LSF 301 at all on Monday 9/9/13. We will not meet in person on Monday 9/9/13. You will instead view the 5 ten minute videos listed below (also available on Youtube at https://www.youtube.com/user/JulietHahnPhD ) in place of the lecture. You will then log into blackboard and answer one multiple choice question which you should be able to answer after viewing the videos. The multiple choice question will count as attendance for the lecture class of Monday 9/9/13. You may view the video at any time on your own. The one point multiple choice question has a deadline of 9/30/13 at 5 pm. updated by Dr. Juliet Hahn on 9/8/13 at 8:30 am from the Columbia Airport (If you do go to LSF 301 at 9:30 am and 10:30 am, Mr. Ragsdale will tell you to go to my website.)
For the 9/11/13 Wednesday and 9/13/13 Friday class, we will meet normally in LSF 301 and there will be no video lecture. This is the only time this semester when we will do this online video lecture.
****************************************
Here is the General Chemistry I video lecture for 9/9/13 by Dr. Hahn. The rest of the video lectures are located at https://www.youtube.com/user/JulietHahnPhD
General Chemistry I Lecture for 9/9/13 by Dr. Hahn Part 1
General Chemistry I Lecture for 9/9/13 Dr. Hahn Part 2
Dr. Juliet Hahn Statement of Teaching Philosophy: Short Version on left (for people with really short attention span) and Long Version on right. (embedded from https://www.youtube.com/user/JulietHahnPhD ) uploaded on 7/1/12 from Socorro, New Mexico
Video performed and videotaped by Dr. Juliet Hahn (laptop on stool). I was 2 classes short of Computer Science/Chemistry BS double major (ended up with Computer Science minor) & I used the "help" directions and trial and error. Still photo was taken using the auto setting of my camera. Music is from the "sample" music on my laptop "Sleep Away" by Bod Acri. My Mom thought the video was so well done that someone would think that I had professional help making the video. My Mom (as everyone's mother does I am sure) always thinks I do everything really well.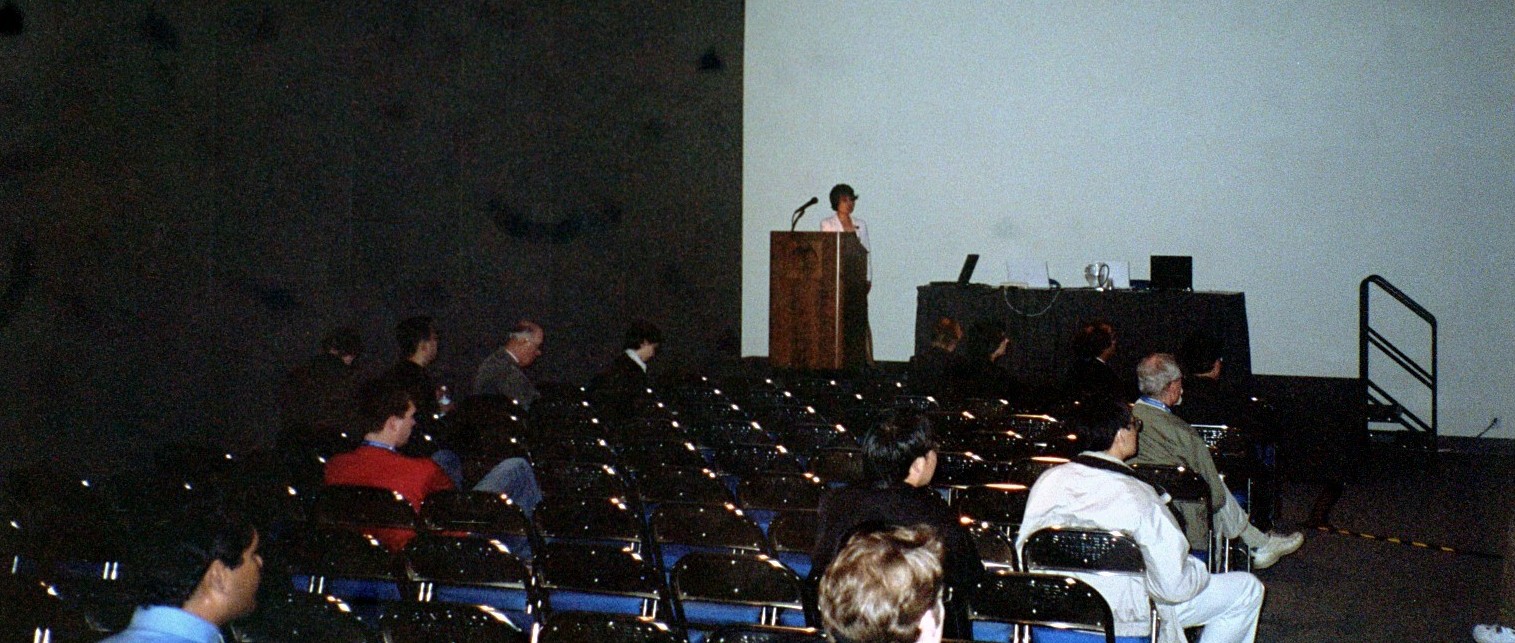 Dr. Hahn giving a talk at one of the National ACS Meetings.
http://www.linkedin.com/in/juliethahn
@JulietHahnPhD (There are 2 other Juliet Hahn s on twitter. Those other twitter accounts are not me.)
http://www.youtube.com/watch?v=VedFtwCY0K8 Juliet Hahn Video Research Statement (posted 8/1/10)
http://www.youtube.com/watch?v=1PrCSxsM1M0 Juliet Hahn Video Teaching Statement I (posted 8/1/10)
http://www.youtube.com/watch?v=iULpCHYUYSw Juliet Hahn Video Teaching Statement II (posted 8/1/10)
tenure track Assistant Professor at Delaware State University in the Department of Chemistry (2006 to 2009) I am not associated with DSU in any capacity whatsoever (currently or ever again in the future). My name showing up on their website is from the slow updating of their website.