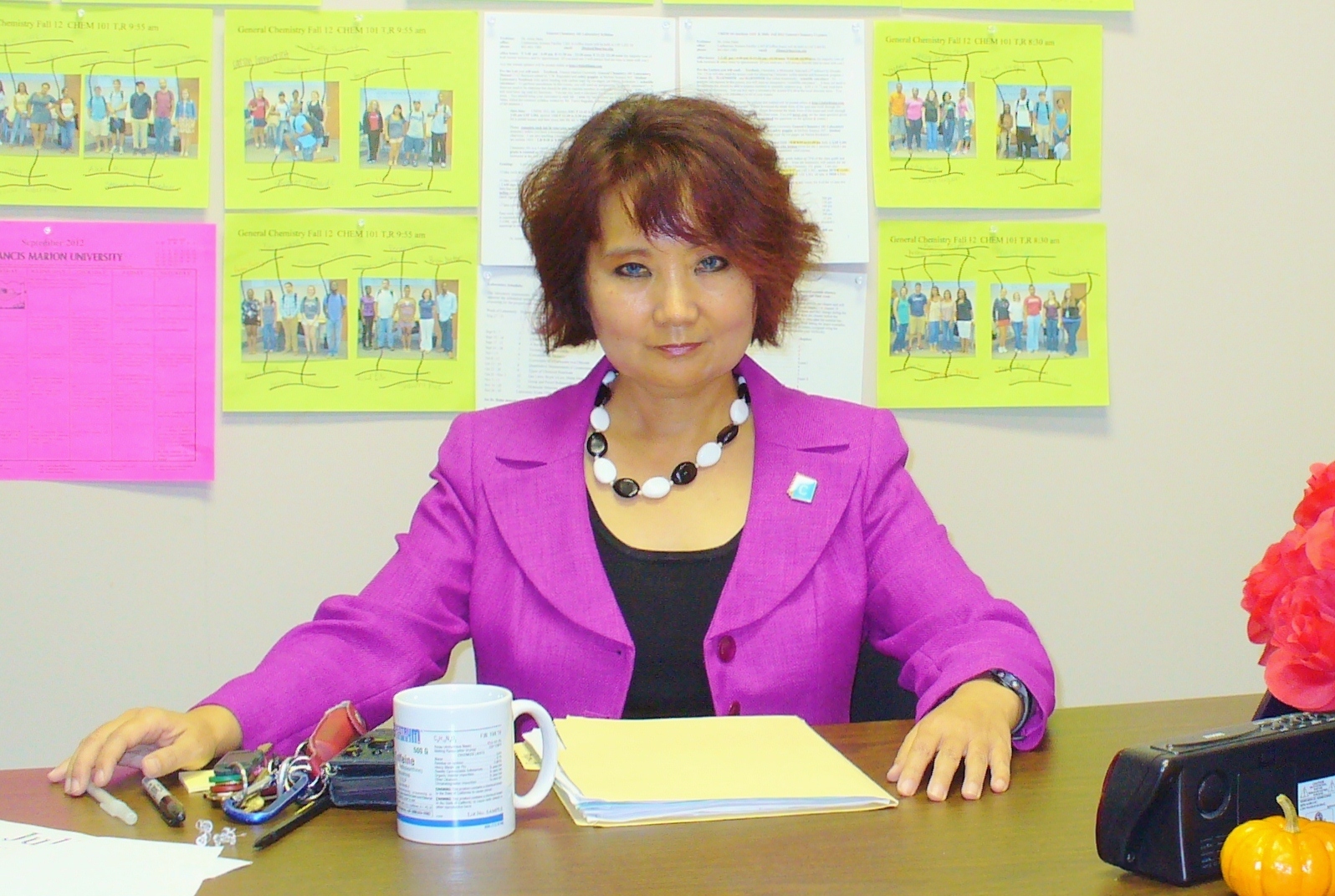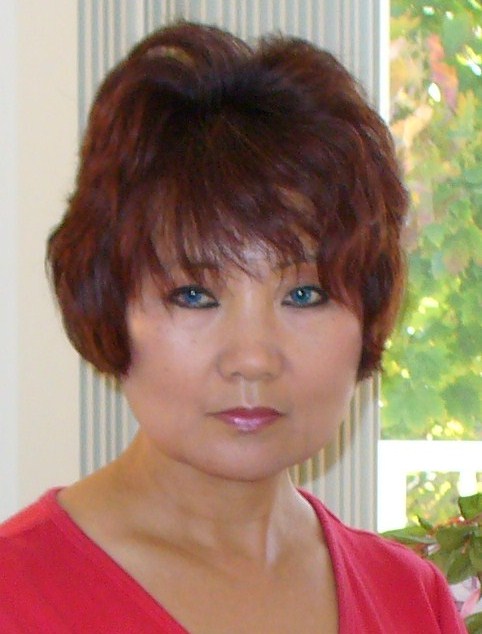 photo 10/11/12 at LSF 303H office at Francis Marion University photo 10/30/10 at Patchogue apartment (Long Island, NY)
(Florence, SC)
Homepage Juliet M. Hahn, Ph.D. This website is maintained and funded independently by Dr. Juliet Hahn updated by Dr. Hahn 4/6/13 Saturday at 11:30 am from her Columbia, SC home
Assistant Professor at Francis Marion University (starting Fall semester 2012)
office: Francis Marion University
Department of Chemistry
Florence, SC 29502
843-661-1483
office: Leatherman Science Facility L303H
Go into room/complex 303 just down 2 doors from LSF L301 your lecture room.
My office is the last one to the right down the right hallway.
My "turn in assignments box" is the wooden box (among the whole bunch of boxes) located between the two doors of LSF L304.
Schedule Fall 2013:
General Chemistry I Lecture CHEM 101 MWF 9:30 - 10:20 am, CHEM 101 MWF 10:30 am - 11:20 am
General Chemistry I Lab CHEM 101 L M 1:30 - 4:20 pm, CHEM 101 L W 1:30 - 4:20 pm, CHEM 101 L F 12:30-3:20 pm
Schedule Summer I 2013:
General Chemistry II Lecture & Lab CHEM 102 Lecture MTWR 10 am - 11:50 am LSF 304
CHEM 102 Lab M & W 1 pm to 4:30 pm LSF 304 (prelab)
Question: Am I teaching classes for which my name is not listed on the hard copy registration or on the online registration website? Nope. I am however teaching all of the classes for which my name does appear. Because last year was my first year at Francis Marion, there was another person listed for the classes which I taught in Fall 2012. That person left for another job I was told. There are some classes which list Dr. Williams (the chemistry chair) which Dr. Williams does not actually teach. This is because they just put his name in for all of the classes taught by adjuncts (part time teachers) or persons without at least a MS degree who are not allowed to be listed on the course schedule (according to Dr. Williams when I asked him how he could possibly teach 20 to 30 contact hours). I am only mentioning this because I know that some of you think that I only teach the labs and only have a BS in Chemistry. I have a doctorate (a PHD, the highest degree possible in Chemistry, the same type of degree as Dr. Williams) in Chemistry and I teach (as you can see above) both lectures and labs. I do not teach under another person's name. I teach under my own name. My name is Dr. Hahn. (I only mention this because some of you apparently think that my name is not Dr. Hahn but is something else. I have no idea what other name you think I go by.)
Schedule Spring 2013 Semester:
General Chem II Lecture
CHEM 102 MWF 9:30-10:20 am LSF 301
CHEM 102 MWF 11:30 am -12:20 pm LSF 301 (~ 60 students per section)
General Chem I Lab
CHEM 102L prelab LSF 301/ lab MSB 316 M 1:30-4:20 pm
CHEM 102L prelab LSF 301 / lab MSB 316 W 1:30-4:20 pm
CHEM 102L prelab LSF 301 / lab MSB 316 F 12:30-3:20 pm (~ 30 students per section)
Office Hours: 10:30 am - 11:30 am M,W & 4:20 - 4:50 pm M,W & other times by appointment
(Please email me with a request for an appointment.)
I am not currently and am not planning in the future to be doing research in collaboration with anyone at Francis Marion University or anywhere else.
home: 312 Lancer Dr.
Columbia, SC 29212
cell: 803-955-6008
I grew up in Columbia, SC and upstate New York. I have family in SC and Virginia. I am of course a US citizen.
High School: Irmo High School, Columbia, SC (97/100 cumulative GPA)
BS Chemistry University of South Carolina, Columbia (where my parents live), Magna Cum Laude, Phi Beta Kappa, 3.8 GPA (2 computer classes short of chemistry / computer science double major)
Ph.D. Organic Chemistry, State University of New York, Stony Brook
postdoctoral research University of Wisconsin, Madison; Columbia University (NY,NY)
more than 10 years experience - all post Ph.D. as a tenure track assistant professor
teaching: class sizes between 50 and 300 students, Organic Lecture (mostly for science majors), General Chemistry Lecture (mostly for science majors), Organic Lab (using own sole authored copyrighted lab textbook), General Chemistry Lab, graduate level (PHD & MS students) Advanced Organic, Bioorganic and Organic Spectroscopy, Organometallic Chemistry
research: research as principal investigator with primarily undergraduate students (1) carbon nanotube functionalization to make electrically conducting thin films - new materials, solar energy collector (2) photodimerization of thymine to bioorganically experimentally simulate the photodimerization reaction implicated in skin cancer (3) stereoselective synthetic methodology using organoaluminum catalysis and a zwitterionic effect in a class of neurobiologically active natural products with potential application as diagonostic or pharmaceuticals for diseases like Alzheimer's and Parkinson's
What am I doing in my office today, 4/25/13 ? I am making up your final exams for the Gen Chem II lecture class. Making up exams is one thing that I cannot do while sitting out in public. (~1/3 multiple choice, ~ 1/3 short answers, ~ 1/3 long answer) exactly like I said that I would make up the final. No, I never said that I will accept any attempt on the "Mastering". There is probably a professor in one of the other sections of the General Chemistry Lecture who said that but I am not that person. I would know what I said and what I did not say. I am not grading in my office today because I need to make up the final for the lecture (final 4/26/13 at 8:30 am for the 9:30 am class & at 11:30 am for the 11:30 am class). Other things I am not doing in my office: I am not writing a research proposal. I am not having a meeting with other faculty. I am not showing an undergrad (or for that matter any student or even some other professor) how to grade my Gen Chem lab final exam. posted by Dr. Hahn from her FMU office at 9:54 am 4/25/13
General Chemistry Lecture & Lab Information
Dr. Juliet Hahn Statement of Teaching Philosophy: Short Version on left (for people with really short attention span) and Long Version on right. (embedded from www.Youtube.com) uploaded on 7/1/12 from Socorro, New Mexico
Video performed and videotaped by Dr. Juliet Hahn (laptop on stool). I was 2 classes short of Computer Science/Chemistry BS double major (ended up with Computer Science minor) & I used the "help" directions and trial and error. Still photo was taken using the auto setting of my camera. Music is from the "sample" music on my laptop "Sleep Away" by Bod Acri. My Mom thought the video was so well done that someone would think that I had professional help making the video. My Mom (as everyone's mother does I am sure) always thinks I do everything really well.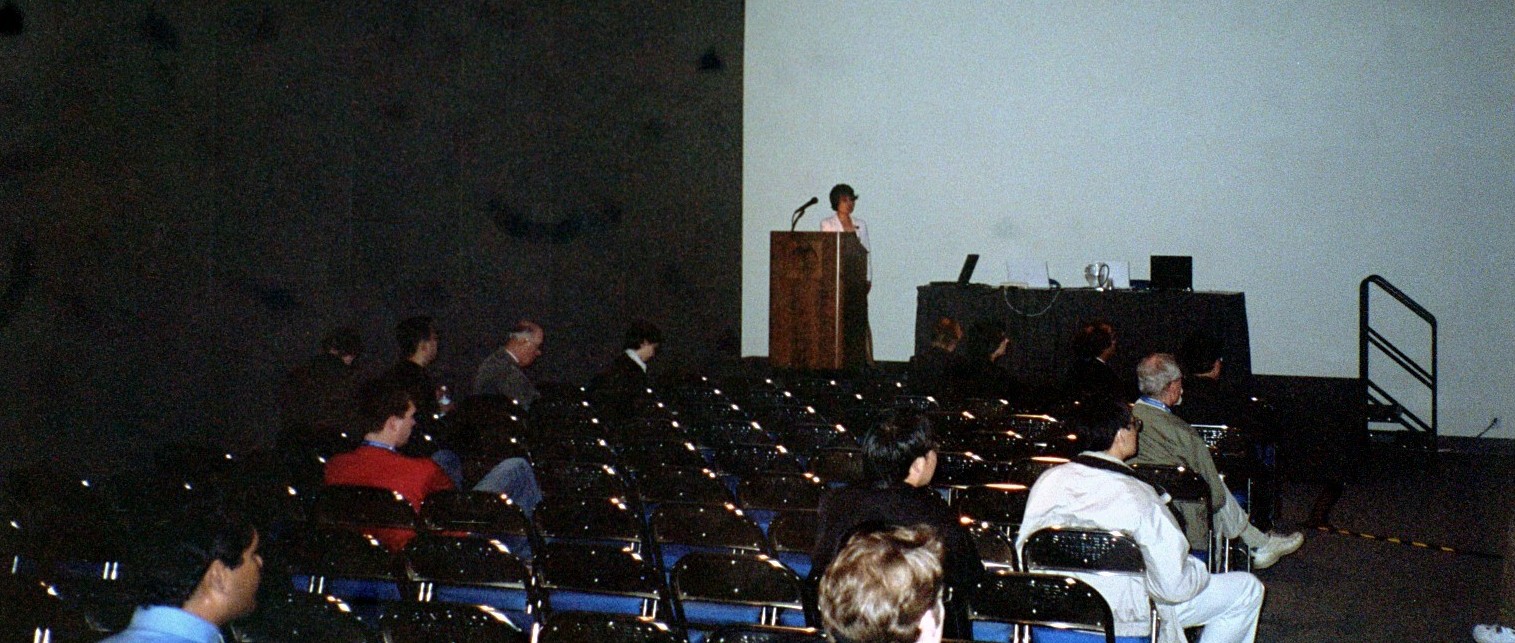 Dr. Hahn giving a talk at one of the National ACS Meetings.
http://www.linkedin.com/in/juliethahn
http://www.facebook.com/JulietHahn (video statement of teaching & research interest is on the picture/video part)
@JulietHahnPhD (There are 2 other Juliet Hahn s on twitter. Those other twitter accounts are not me.)
http://www.youtube.com/watch?v=VedFtwCY0K8 Juliet Hahn Video Research Statement (posted 8/1/10)
http://www.youtube.com/watch?v=1PrCSxsM1M0 Juliet Hahn Video Teaching Statement I (posted 8/1/10)
http://www.youtube.com/watch?v=iULpCHYUYSw Juliet Hahn Video Teaching Statement II (posted 8/1/10)
tenure track Assistant Professor at Delaware State University in the Department of Chemistry (2006 to 2009) I am not associated with DSU in any capacity whatsoever (currently or ever again in the future). My name showing up on their website is from the slow updating of their website.